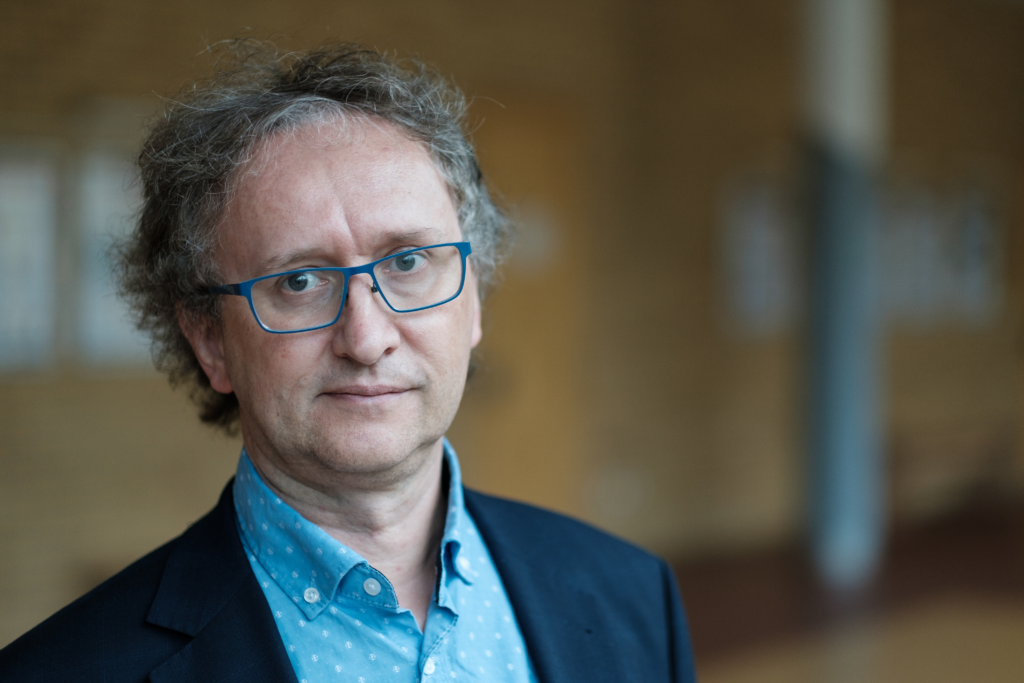 Prof. dr hab. Maciej Krawczyk
Department of Nanostructures Physics


Scientific degrees
Title of professor – 2015
Habilitation – 2009
PhD in Physics – 2001
Research interests
Keywords: magnonics, metamaterials, metasurfaces, nanomagnetism, magnetization dynamics, magnetoelastic
The research is focused on studies in the field of magnonics, but cover also phononics, photonics, magnetoelastic and metamaterial physics. The interest cover a broad spectra of wave-dynamic effects in nanostructures, including:
Band structure formation for spin, electromagnetic and elastic waves in artificial crystals;
Control of the wave propagation by the nano-structuralization and interactions;
Study of the coupling between the waves of different types;
Nonreciprocity in wave propagation;
Magnetization dynamics in complex magnetization textures;
Metamaterials and metasurfaces;
Application of the spin waves.
Other information
PI of the UE projects:
"DYNAMAG: Advanced computational studies of dynamic phenomena in magnetic Nano-materials", nr CP FP 233552; (2009-2012), (FP7-NMP-2008-EU-India-2);
"MAGNONICS: Mastering magnons in magnetic meta materials", nr: CP-FP 228673; 7PR UE Cooperation Theme, NMP (2009-2012);
"NoWaPhen – Novel wave phenomena in magnetic nanostructures", nr: 247556; 7PR UE People Marie Curie Actions (2010-2014), GA. 247556 FP7-PEOPLE-2009-IRSES;
"MagIC – Magnonics, Interactions and Complexity: a multifunctional aspects of spin wave dynamics", Horyzont2020, MSCA-RISE-2014: Marie Skłodowska-Curie Research and Innovation Staff Exchange (RISE), GA no. 644348, (2015-2019).
---
Projects
Publications
2021

13.

Phase resolved observation of spin wave modes in antidot lattices

Appl. Phys. Lett., 118 (23), pp. 232403, 2021.

12.

Multifunctional operation of the double-layer ferromagnetic structure coupled by a rectangular nanoresonator

Appl. Phys. Lett., 118 (18), pp. 182406, 2021.

11.

Resonant subwavelength control of the phase of spin waves reflected from a Gires–Tournois interferometer

Sci. Rep., 11 (1), pp. 4428, 2021, ISSN: 2045-2322.

10.

Local non-linear excitation of sub-100 nm bulk-type spin waves by edge-localized spin waves in magnetic films

Appl. Phys. Lett., 118 (6), pp. 062408, 2021.

9.

Real-Space Observation of Magnon Interaction with Driven Space-Time Crystals

Phys. Rev. Lett., 126 , pp. 057201, 2021.

8.

Competing spin wave emission mechanisms revealed by time-resolved x-ray microscopy

Phys. Rev. B, 103 , pp. 014430, 2021.

2020

7.

Anomalous Refraction of Spin Waves as a Way to Guide Signals in Curved Magnonic Multimode Waveguides

Physical Review Applied, 13 (5), pp. 054038, 2020, ISSN: 2331-7019.

2019

6.

Standing spin waves in perpendicularly magnetized triangular dots

Physical Review B, 100 (18), pp. 184416, 2019, ISSN: 2469-9950, 2469-9969.

5.

Reprogrammability and Scalability of Magnonic Fibonacci Quasicrystals

Physical Review Applied, 11 (5), pp. 054003, 2019, ISSN: 2331-7019.

4.

Magnons in a Quasicrystal: Propagation, Extinction, and Localization of Spin Waves in Fibonacci Structures

Physical Review Applied, 11 (5), pp. 054061, 2019, ISSN: 2331-7019.

3.

Interaction Between Thermal Magnons and Phonons in a CoFeB/Au Multilayer

IEEE Magnetics Letters, 10 , pp. 1–5, 2019, ISSN: 1949-307X, 1949-3088.

2017

2.

Coupled-mode theory for the interaction between acoustic waves and spin waves in magnonic-phononic crystals: Propagating magnetoelastic waves

Phys. Rev. B, 96 , pp. 024407, 2017.

1.

Broadband magnetoelastic coupling in magnonic-phononic crystals for high-frequency nanoscale spin-wave generation

Phys. Rev. B, 95 , pp. 104425, 2017.